Google has sent out a mass communication to website owners with a clear message – fix mobile usability issues  or you won't show up in search results on mobile devices. In the past, Google has strongly suggested that sites be optimized for mobile as a best practice for mobile search visibility, however, the recent communication from Google is strongly worded and decisive in the consequences:
"The errors on these … pages severely affect how mobile users are able to experience your website. These pages will not be seen as mobile-friendly by Google Search, and will therefore be displayed and ranked appropriately for smartphone users."
How can you keep your site in Google's mobile search results?
First, find out if your site is optimized for mobile devices. Google created this awesome tool to see if your site passes their mobile-friendly test:
Check to see if your site has mobile usability issues.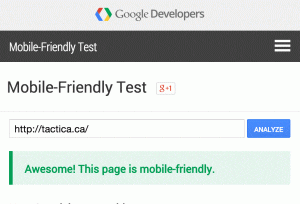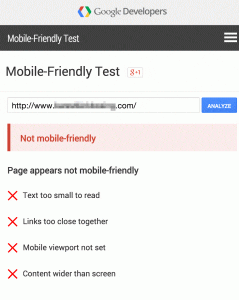 If your site fails? Don't worry, Tactica can help you create a great mobile-friendly website. We have been creating responsive mobile-friendly websites that pass Google's tests for a long time. Our responsive sites will help you protect your mobile search rankings in Google, give your audience a great mobile experience, and increase returning traffic to your site from mobile visitors.
Why mobile-friendly websites are important
According to Google, mobile device searches have increased by 500% in the last couple of years and the consensus in the SEO (Search Engine Optimization) community is that Google's message is advance warning of a major search algorithm change that goes beyond the broken mobile search penalty put in place in 2013, signalling a significant potential impact for sites that don't comply.
And while the warnings are intended to help, Google has recently given sites with issues a deadline: April 21, 2015. How soon a responsive version can be created for a site depends on it's complexity, so acting quickly is the best course of action.
Contact Tactica to discuss options for improving the mobile experience for your site and preserve your search visibility.